England v Sri Lanka Test Series – The KIA Oval
Experience exclusive hospitality at the KIA Oval for England v Sri Lanka with access to our stunning, VIP terrace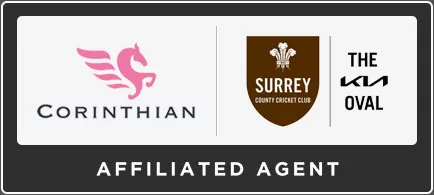 The Ultimate Test Cricket Hospitality Experience
The Test series between England and Sri Lanka is a captivating cricketing contest, marked by the battle of traditional Test cricket skills and endurance. As the teams engage in the longer format, fans are treated to a display of patience, technique, and strategic brilliance.
The clash between England's seasoned players and Sri Lanka's talented squad creates an intriguing matchup, with each team aiming to outwit the other.
Indulge in complimentary drinks and food with access to our stunning, VIP terrace overlooking the pitch plus the opportunity to interact with cricketing legends or former players. Book your tickets today!
Officially licensed Hospitality provider for this event
Event Details & What's Included?
Seats in the bowl at the back of the JM Finn Stand

Gourmet buffet lunch served

Indoor and outdoor areas for you and your guests to enjoy throughout the day

Afternoon Tea is served during the break(s)

Grazing food served throughout the day

Premium, complimentary cocktail bar

Meet and greet with some of England Crickets' biggest names, with Monty Panesar and Jonathan Trott joining us previously.

Complimentary bar including beer, wine and soft drinks

Private terrace area directly behind your seats
The Pegasus Lounge is Corinthian Sports' premier VIP experience.
When attending a Pegasus Lounge, you and your guests will enjoy dedicated VIP hosts, unrivaled guest speakers, official merchandise, the best views in the house, exclusive goodie bags and more!
Our guest speakers include:




Royal Ascot
" From tickets, to car park and the event, Corinthian thought of everything. My guests had a fantastic time. "

The Ashes
" Top Class Hospitality and Venue - it really is difficult to see how it could have been improved upon to be honest "

British Grand Prix
" Absolutely fantastic setup, the entertainment from guest speakers and virtual F1 racing was superb "

Six Nations
" Corinthian made the booking process easy and the day was a resounding success. Thank you. "

Henley Royal Regatta
" The sun didn't make an appearance but that didn't stop us having a fantastic experience. Wonderful hosts "
Enquiring about this event is easy! Complete the form below and one of our event team will reach out to you
If you're sold on this event, booking your tickets couldn't be simpler: