England v Australia ODI – Sophia Gardens
Indulge in luxury cricket hospitality at Sophia Gardens for the ODI clash between England and Australia
The Ultimate Cricket ODI Hospitality Experience
The England vs. Australia ODI is a highly anticipated cricketing clash, known for its fierce rivalry and memorable moments. As two cricketing powerhouses go head-to-head, fans are treated to a captivating display of skill, determination, and sportsmanship. Adding a hospitality experience to this enthralling match takes the excitement to new heights.
It provides fans with the opportunity to enjoy the game in style, with premium seating, exclusive amenities, and top-notch service. From delectable food and beverages to interactions with cricketing legends, the hospitality experience creates a truly immersive and unforgettable day at the cricket ground.
Don't miss out on this highly anticipated event, book your tickets today!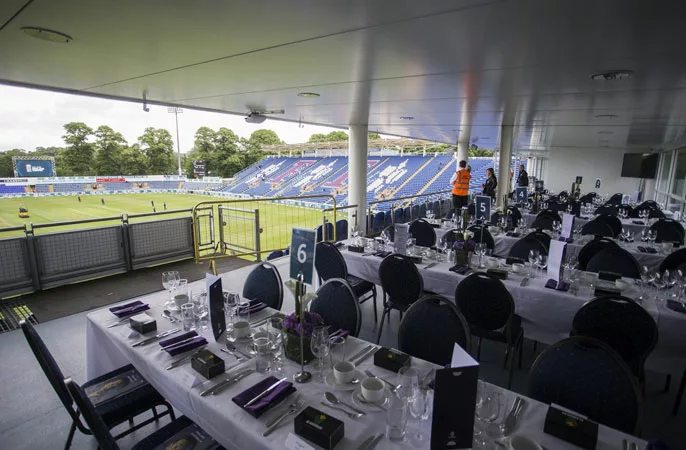 Event Details & What's Included?
Exclusive private box for 12 guests overlooking the pitch
Match ticket
Four-course dinner throughout the evening
Complimentary bar including beers, prosecco, house wine and soft drinks
Hospitality gate
Welcome host and dedicated waiting staff



Royal Ascot
" From tickets, to car park and the event, Corinthian thought of everything. My guests had a fantastic time. "

The Ashes
" Top Class Hospitality and Venue - it really is difficult to see how it could have been improved upon to be honest "

British Grand Prix
" Absolutely fantastic setup, the entertainment from guest speakers and virtual F1 racing was superb "

Six Nations
" Corinthian made the booking process easy and the day was a resounding success. Thank you. "

Henley Royal Regatta
" The sun didn't make an appearance but that didn't stop us having a fantastic experience. Wonderful hosts "
Enquiring about this event is easy! Complete the form below and one of our event team will reach out to you
If you're sold on this event, booking your tickets couldn't be simpler: